What's new in Blackout 4.7
Have a Specific Issue Not Covered in this Guide?
Click on the Support Icon in the lower right hand corner. Please provide as much information as you can about the problem or question you have and one of our Customer Advocates will respond to your request.
Blackout 4.7 Release Overview

Blackout 4.7 includes the following product improvements and bug fixes.
Features
Find & Redact

Images now contain a Blackout Find & Redact search box in the top right corner. Find & Redact respects existing Relativity Redaction privileges and can place any type of image redaction.

Pre-OCR Image Projects

Image projects now have a setting that allows Blackout Admins to generate OCR for a set of images without running any rules to speed up review and long-running image project execution times.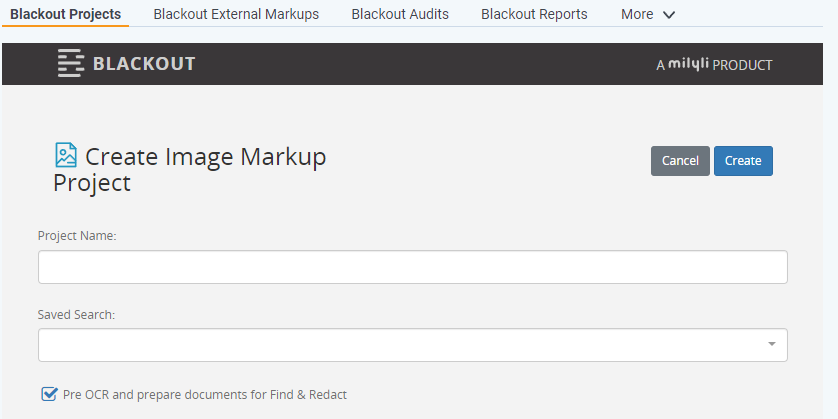 Manual Failures Tab Improvements

The manual failures tab now contains paging, filtering, and sorting, as well as additional column options and more user-friendly mass operations.

Blackout Analyze supports dtSearch rules

Blackout analyze supports dtSearch rules supported by Image, Spreadsheet, and PDF projects.
Performance Improvements
Improved accept all/reject all performance of Manual Spreadsheet Redactions with thousands of markups.
Improved stability of large image projects with Character Scope OCR.
Bug Fixes
Respect filtering for the image QC pane
Improved messaging around Relativity errors in the document viewer that cause Blackout to fail to load properly.
Fixed an issue where Blackout Analyze results would not export if results contained documents without extensions.
Fixed an issue with the Manual Failures tab taking a long time to load with 100s of entries.
Orphaned markups now appear in the Manual Failure tab.
Fixed an issue where redactions could be placed in the incorrect order when run through a propagation project with many reverts and reruns.
Known Issues
There is a known issue in Blackout 4.6 & 4.7 when using character scope redactions in image, PDF, and spreadsheet projects. When the last character of a term is followed by a punctuation mark (e.g. at the end of a sentence), the last character of the matched text will not be redacted.