Creating an Analysis
What to know
Blackout Analyze can be used to analyze a set of rules against extracted text and provide information on document matches without having to revert redactions.
How to do it
Navigate to Blackout | Projects
Click on Create New Project
Choose Analyze from the Project options
Enter a Name for your analysis
Choose a Saved Search of documents for the analysis to be ran against
Choose how you want to apply rules to your analysis:

Upload your Rules Via CSV by clicking on the Upload Rules CSV File button
Click the Add Rule Button and fill in the fields outlined below
Rules Table Fields
Field

Description
Rule Type
A dropdown field to choose Regular Expression, Word/Phrase, or dtSearch
Label
Name of the Rule
Pattern
If Word/Phrase was chosen this will be the word or phrase and text that will be searched for across the document set
If Regex is chosen you can enter a Regular Expression to search for patterns such as email addresses, social security numbers, credit card numbers, and any other content that may appear regularly throughout the document
If dtSearch is chosen you can enter the dtSearch syntax to search for patterns based off a dtSearch index created by Blackout.
Rule Source
Manual will display if rule was created by the Add Rule button.
Name of uploaded CSV file displays if rule was uploaded via CSV.
After entering your rules click Save.
Note: If on Blackout 4.9 or higher Blackout Analyze Projects can be created from the Blackout Project tab or the Blackout Analyze tab

Running an Analysis

What to Know
Re-running a previously ran analysis will override past executions and you will not be able to recover previously ran jobs.
How to do it
After the analysis has been saved click the Run button
Once the analysis begins running, the analysis will be queued and then start being processed by the Blackout agent.
After the analsysis completes, a results page displays information about the completed work and provides a launchpad for further review.
Reviewing Analysis Results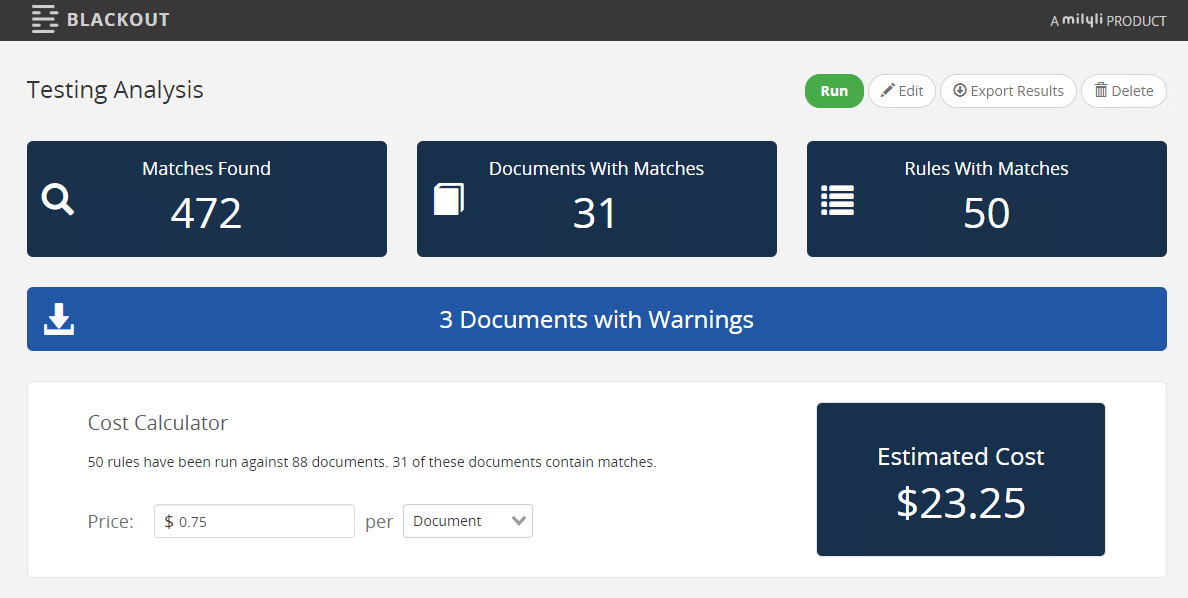 When the Project completes the items below will be displayed
Field

Description
Matches Found
Count of unique matches found by the rules across the selected document set.
Documents with Matches
Number of documents in the set that have matches to rules created
Rules with Matches
Number of rules that successfully would generate a markup
Documents with Warnings
The number of documents that encounter a non-analysis breaking warning.

Clicking this button will download a CSV of the document warnings that include information about what happened and any error messages.
Providing this CSV to Milyli can greatly assist in diagnosing any issues that may have been encountered. Typical reasons for warnings include missing images or failed OCR.

Cost Calculator
Used to estimate price of a potential Blackout project
Estimated Cost
Total Cost if a Blackout project was ran using values from Analyze and the Cost Calculator
Exporting Results

Clicking Export Results with export a CSV of the results providing a list of documents with the following information for every match:
Document ID
Rule Type
Rule Label
Rule Pattern
Rule Source
Document Name
Document Extension
Document Size (KB)
Matched Text
Match Index
Generate a Saved Search of Documents with Matches

Clicking on the Documents with Matches card will create a persistent list and a saved search you can use to review the documents further or create a future Blackout project.
Cost Calculator

The integrated Cost Calculator lets you calculate the estimated Blackout project cost based on the results of the Analyze project by entering a price per document or per redaction.

Note: The calculator can be hidden by setting the 'ShowAnalyzeCostCalculator' instance setting to False. This Setting can be manually created from the instance setting tab with the below values:
Section: Milyli.Blackout
Name: ShowAnalyzeCostCalculator
Value Type: True/False
Default: true