Creating Delegate Profiles
What is a Delgate Profile?

Delegate profiles allow system administrators to grant groups of users in your organization including project managers, consultants, or client managers the ability to manage the users, groups, matters, and workspaces for one or more clients. The configuration of Delegate profiles allows system admins to have full control over the groups who can use Delegate and what parts of Delegate they can use when managing their assigned clients.
The Delegate Profiles Tab

The "Delegate Profiles" tab is available under the Delegate System admin tab. If you have updated from Delegate 1.2 or earlier, this tab will replace the "Configuration" tab. Upon accessing this tab you will see a list of existing Delegate profiles along with their details
Creating & Managing Delegate Profiles
Field: Groups

The profile group is a Relativity group in your organization who will be granted the ability to manage clients with Delegate. All users of this group will be able to take advantage of the features you grant them access to through the Delegate Profile.

Best Practice : As a best practice new groups should always be created for use with Delegate profiles. Groups that are selected for use in a Delegate profile should not be used for permissions within workspaces or access to workspaces. By selecting a group for use with a Delegate profile, access to control certain parts of Relativity through Delegate will be provided.

Special Case: Users with Multiple Delegate Profile Memberships : If a user is a member of multiple groups that are used for a Delegate profile, the permissions granted to that user will be specific to the clients the profile is associated with. Take this scenario for example:
John is a member of Group A and Group B, and both groups have a profile set up for them
Group A manages Client A
Group B manages Client B
Group A can manage users for Client A
Group B cannot manage users for Client B
John will be able to select between Client A and Client B when using Delegate
John has Client A selected and creates a user for Client A
John changes his selection to Client B while still on the Users tab
John will automatically be navigated to the group tab as he cannot manage users for
Similarly, when a user is a member of two or more profiles that both can manage the same client, the permissions for that client are additive, meaning the highest available permission will be used to determine access. Consider this scenario:
Jane is a member of Group A and Group B, and both groups have profiles set up for them
Group A manages Client A
Group B manages Client A
Group A can manage users for Client A
Group B cannot manage users for Client A
Jane will be able to manage users for Client A
Field: Clients

When creating a Delegate profile, you have the ability to select one or many clients that the group members of the profile will be able to work with. This allows for different demographics within your organization to benefit from the use of Delegate.
Field: Group members can manage their own client

This options allows members of the selected group to utilize Delegate to manage the Client object their account is associated with. This option is intended for managed services organizations who need to allow members of their clients to perform admin actions through Delegate on their own clients.

Delegate 1.2 vs Delegate 2.0 Prior versions of Delegate required the configuration of a single group and all members of that group would automatically manage their own client. Upon updating from those versions to Delegate 2.0, the configured group will automatically have a profile created for it, and the group will have the option to manage their own client set and all prior permissions selected.
Tab Permissions

Delegate profiles provides extensive permission customizations. Each client administration tab can be toggled providing flexibility in the way the application is used. If a client administrator should not have the ability to create workspaces, for example, you can remove their ability to do so.

Permissions are continually checked and enforced by the system. If a user has permissions and you remove it, they will be informed that they no longer have permission to that object and will be automatically navigated to a tab they do have access to. If a user is a member of multiple profiles for different clients and each profile has a different set of tab permissions, the permissions will be enforced as they switch between active clients.
Field: Enable and disable users

The ability to modify whether a user is enabled or disabled can be toggled for each Delegate profile. This feature works great in tandem with a new client configuration that allows for defining the default enabled state for new users. Setting this field to disabled will prevent client administrators from enabling or disabling users from both the user list and the edit user page.
Field: Modify User Authorization Providers

Authorization profiles can be complex for some users. This option lets you disable adding, modifying, or removing authorization profiles when your client admins create new users.

Setting this option to disabled pairs well with user templates under the Client tab. By configuring a template user with the Default Password Provider will provide an easy way to simplify the "Save and Next" process for your client admins by ensuring that new users are automatically configured and don't need any changes.
Field: Mass Import Users

This field restricts permission for the members of the profile to utilize the mass import users form. If this is checked, the user will be presented with an additional option when creating a user to instead utilize the mass import form.
Creating Self Managing Delegate Profile

If you used Delegate prior to Delegate 2.0, you are already familiar with the process of selecting a group in the Delegate Configuration tab and having members of that group automatically able to manage their own client. If this is a fresh installation, follow these steps to recreate this functionality.

It is strongly recommended that you create a group explicitly for this Delegate profile.
Click on the "New Delegate Profile" button.
In the group dropdown, select the group you want to have the user administer their own clients.
Select the checkbox "Group members can manage their own client".
It's important that you don't select any clients in the client box if you don't intend all users of this group to be able to manage that client!
Select the tabs and permissions you want clients to have access to.
This is where you can prevent client admins from getting access to features that you want only your system admins to manage, such as matters.
Delegate Profile Audits

All Delegate profile changes and additions are tracked and displayed on the system admin Delegate audit tab. You can quickly filter for these audits by filtering the "Type" field to "Delegate Profile." All audits contain information about both the initial value and the changed value for each field that has been modified.

Create Audit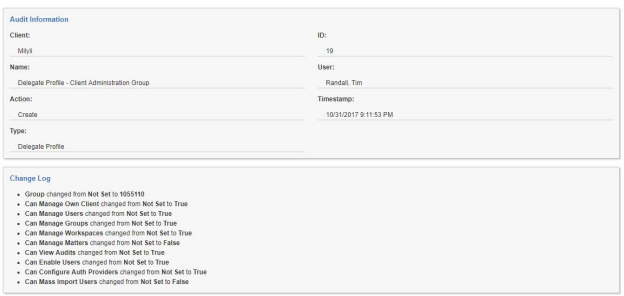 Update Audit

Delete Audit